11/07/12 20:17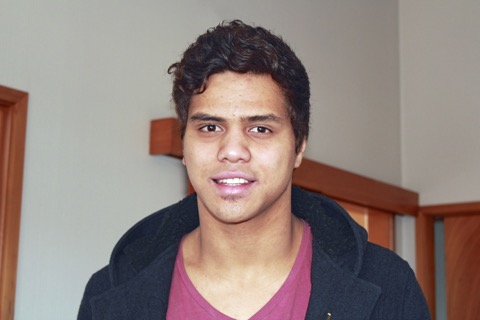 John Stainton takes over the role of Koriata


The search for a new leading actor to play Koriata has been a priority since Chris Mills left for Australia.
Whilst we were sad to lose Chris, who brought a definite panache to Koriata's character, as with Kōkā and Matakite last year, a casting change provides an opportunity to fine tune the character.
I wrote in yesterday's post that preview audiences for
Amiri's Child
have been universal in their praise of the dramatic intensity between Arapeta and Tamati. They were less impressed with the scenes between Arapeta and Koriata. As arch rivals (
David & Goliath
) all their lives, their first face-to-face meeting as adults (ironically at a mediator's office), needs to be an almighty clash of the titans. At the time, I was very pleased with the hostile confrontation between Arapeta and Koriata that we shot last October. Indeed this scene is included in the IndieGoGo campaign video. However, after talking to preview audiences, I realize that I did not build up the adult Koriata sufficiently for the sequence to have maximum impact.
So I made the decision that we would reshoot
all
Koriata's scenes with a new actor, for both
Amiri's Child
and
Rere's Children
. This has the obvious advantage of continuity between the two films (I have had discussions with satellite television channels who are interested in broadcasting the trilogy as a mini series on consecutive nights, so having the same actor for Koriata throughout would be essential) and the opportunity to strengthen
Amiri's Child
, developing the antagonism between Arapeta and Koriata, culminating in an explosive meeting.
I was disappointed not to find a new actor for Koriata at last night's auditions. Half way this morning's shoot (the electric scene between Arapeta and Tamati), our Casting Director Walter Walsh (living up to his nickname of
The Wiz
), gave me call to say he had found an actor keen to play Koriata. I met with John Stainton this afternoon and I knew straight away that we had found our Koriata. John is perfect for the part and will bring depth to Koriata.
I am hoping to shoot a scene between John and Shayne Biddle as Koriata's father Hunapo in my last couple of days in Gisborne for this shooting session. This is a key scene in Rere's Children where the aging lothario Hunapo implores hiss estranged son not to make the same mistakes that have ruined his life. This will be a great introduction to Koriata for John!