Young Arapeta's Vision at the Waitaki Dam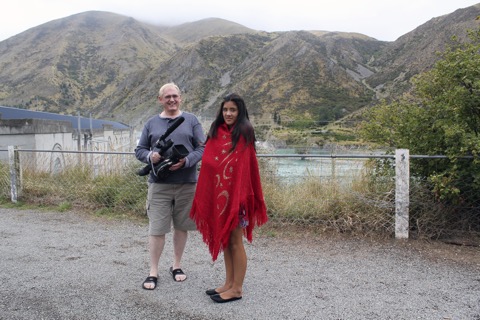 David Whittet directs Sophee Hills as the young Miriama at the Waitaki Dam in North Otago.
Today's shooting provided an ideal opportunity to deepen the audience's insight into the relationship between the young Arapeta and Miriama and in particular to develop Miriama's character.
The
Young Arapeta's Vision
sequence is all important to the story but has proved very difficult to get exactly right. I have re-written the scene may times and today marks the third time we have filmed the scene.
Coming midway through
Amiri's Child
, whilst out walking with Miriama, the young Arapeta sees a hydroelectric dam and knows instantly that he wants to be in charge of the power station. Whilst Arapeta eulogises about clean raw energy, Miriama takes a more pragmatic approach, she's learnt about harnessing energy at finishing school. And we get a glimpse of Miriama's playfulness as she teases Arapeta that she might beat him to it, a hint of plot twists ahead.
Today's shoot was made special by the pounding water on the spillway at the Waitaki dam. On our previous shoots, the cascading water had to be added digitally in post production. Recent heavy rain in the Waitaki Valley has filed the lakes and the roar of the water from the dam today truly equalled the might of the Rere falls!
Shooting at the mighty Waitaki dam today, with the intensity of the pounding water and the beauty of the Waitaki lakes, I could empathise with the young Arapeta's fascination with "clean, raw energy".