Packing up at Te Karaka: Farewell to my pianos. I had decided that my two pianos were both too large and to fragile to travel to Kurow and I had decided to give them to Kristel Day as a token of appreciation for her work on the film.

Whilst I knew that my pianos were going to good homes, there was a twinge of sadness as I watched them being loaded onto the truck.

The timing of the move to Kurow and the completion of the film turned into something of a nightmare. The delays in production, largely as a result of the
Hobbit Factor
had put us so far behind schedule that the editing was now being squeezed into the time I had set aside for packing up for the move.
I had so hoped to have the film completed in good time so that the move to Kurow would not be a rush, but that just was not to be. The next few days will be a juggling act to get everything finished!
Post Production sandwiched between boxes - a race against time to finish both the film and the packing! It is strange and almost surreal to see our lives and possessions packed up in boxes!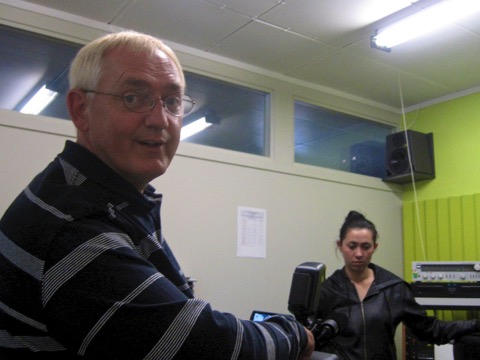 Working with Tia at on the opening music track at the Turanga FM studios. Just one of the many tasks I must complete in the next few days! Tia and I had such wonderful ideas for the music of the film yet here we were in a rush to get the recording finished. And this song is so important, our waiata, or welcome to the film, the first sound the audience will hear as the lights go down and the film starts!